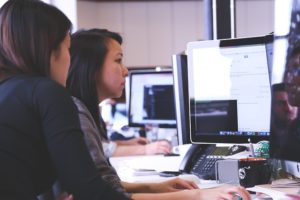 Techniques for motivating students through distance learning
Modern technology, faster Internet connections and the ever-growing amount of people wanting to learn English have created a true boom in online TEFL teaching classes in recent years. It is often a wonderful solution for both teachers and students indeed, but some teachers struggle with the part of motivation when teaching remotely, since their contact is through a screen rather than face to face, which comes with certain limitations. So to help you along, we've compiled a list of techniques that will help you motivate your distance learning TEFL students.
Impeccable planning and material preparation 
Whereas lesson planning is already important for normal face to face TEFL classes, it becomes absolutely essential when teaching English online! There's nothing that dampens an online student's motivation faster than a teacher that is leaving a student without any specific task to fulfill while searching for a link or file for several minutes. What about if the student completed the class material quicker than anticipated, and the teacher is left to unsuccessfully improvise to fill up the remaining class time? An absolute no-no. More than a technique, this is really just good teaching practice, but it's important enough to mention before moving onto the other suggestions. 
Use a variety of multimedia and resources 
Students tend to stay motivated when you surprise them, so it's vital to steer clear from falling into the exact same class routine, using the exact same type of resources.1 You can achieve this by setting yourself the goal of ensuring at least one new type of activity or resource in every class. This shouldn't be that difficult, since language is used for everything, and English happens to be the most prevalent language online, as well as offline. The Internet is a treasure trove of videos, magazines, poetry, technical information, questionnaires, songs, literature, interviews, visual art, discussion groups, and many others gems, and anything that is copyright free and relevant to your student's age, level and interest could be the perfect complement to your class. All you have to do is take the time to find them!
Make it personal and cultural
It's been found that when students establish a more personal connection to the topic taught, this greatly increases both their intrinsic motivation and memorisation of new language items.2 Many teachers have found the link to motivation to be so strong that it's apt to apply it in class whenever possible. For example, if you're teaching the names of items of furniture we generally have in our homes, ask them: which of these pieces of furniture they own; whether they have any pieces of furniture with a special story; or leave the homework task of send photos of specific furniture styles or items that are popular where they live. This technique is paramount, because it's one of the few ways your student can bring a bit of their real life into the virtual classroom. Additionally, it's also quite likely that you'll be teaching a student from a different country and culture than your own, which is a great opportunity for them to tell you about cultural peculiarities and express themselves about something very close to their heart. Plus you'll get to learn some interesting things about their culture!3
Motivated teacher = motivated student
Lastly, there's the importance of the teacher's attitude and engagement to teaching. You are the person on the other end of the screen that has to insert the human touch into this distance learning experience. You are literally responsible for bringing the teaching material to life, and you can do this by concentrating on the student at all times (no cheeky text-messaging or browsing during class), keeping good track of their progress, showing interest in their examples, asking questions that are relevant to their lives, and generally have a very friendly, positive and dynamic attitude. Varying your tone of voice can do wonders, so don't be afraid to record your voice whilst teaching when you can in order to listen back and judge whether there's room for improvement or not.
If you apply the above techniques, you're bound to keep your distance learning English students motivated, on track, and reap the benefits from sharing fun, dynamic class time together. Not surprisingly, the above techniques can (and should!) all be used in normal face to face classes too, so even if you don't teach online, we hope these techniques will have given you some ideas about how to keep students engaged. Happy teaching!
1 https://www.bookwidgets.com/blog/2019/01/best-7-strategies-to-increase-student-motivation-online
2 https://www.teachingenglish.org.uk/article/personalisation
3 https://blog.off2class.com/motivating-online-esl-students-5-tips/